No.
Part # / Description
/ Price
Price
Lift Gate Glass Adhesive Kit
Glass Urethane Kit
Glass,urethane kit. Without movable window. Station wagon. Glk/glc,. Suv,. Mercedes. , with panoramic roof, front. Sedan, wagon,. , convertible.
Discontinued
Discontinued
Glass
Mercedes, with heat reflective.
Glass
Mercedes, without heat reflective.
Discontinued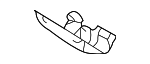 Reveal Molding Rivet
Joint Cover Rivet
Lower. Rivet. With convertible. Sedan, wagon, wagon. Coupe/convertible, coupe.
No.
Part # / Description
/ Price
Price
Discontinued